 Germany's bestselling Middle Grade series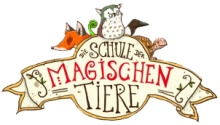 THE SCHOOL OF MAGICAL ANIMALS by Margit Auer with illustrations by Nina Dulleck
This is Germany's number one middle grade series, published by Carlsen Verlag and so far sold over 3 million copies. The books have been translated into 20 languages already!
This school has a secret. If you are lucky you'll find your best friend ever: a magical animal that can talk – but only to you. In each book another kid is the main protagonist. Fantastical charming adventure stories for boys and girls! Ideal to discuss at school as well as it features topics like bullying, fairness, friendship, courage, feelings, and education.
https://www.carlsen.de/die-schule-der-magischen-tiere
'This series is just magical and belongs in every child's book shelf.' buecherregal.blogspot
'The magical and adventurous stories bring joy to every child!' buchjournal
'A wonderful, wild and clever series about friendship, growing up and being yourself!' Slomo
Margit Auer has been a journalist and has written a few detective stories for children before becoming hugely successful with the School of Magical Animals. Nina Dulleck is a popular German illustrator who has worked on several middle grade series.
We have two sample translations of volume 1 and volume 5 to give you an idea of the development of the series.
Please get in touch for further details.